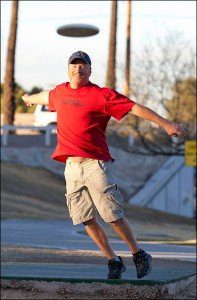 Do you love disc golf? Do you want to improve your skills and have more fun on the course? Then you need to sign up for disc golf lessons with Dan (Dano) Ginnelly, a PDGA Hall of Fame member and one of the best coaches in the sport! Dan has 30+ years of experience playing and teaching disc golf, and he has won multiple championships and awards. He is passionate about sharing his knowledge and love for the game with others, and he will tailor his lessons to your specific needs and goals. Dan will teach you everything you need to know, from throwing techniques and disc selection, to course management and mental game. He will also show you how to practice effectively, how to avoid common mistakes, and how to handle different situations on the course. Whether you are a beginner or an advanced player, Dan will help you reach your goals and enjoy disc golf more than ever!
Learn from Hall of Fame Disc Golfer Dan Ginnelly for just $60 per 1-hour session! It's an investment in your skills that will pay off every time you step onto the course.
Ready to elevate your game? Text (preferred) or call Dano at 480-330-5058 to book a lesson today. Thank you!